....because I want to and I can.
I need to make a paint brush holder and am thinking of using the rest of my favorite fabric if I have enough. Then I was thinking how I keep talking about what I have done with this fabric in the past. So I thought I would post it here:
Sadly I dont have one of my tool organizer I sold awhile back.

I also have baby pictures of Jackson in his boppy and his sling and didn't want to dig them out, so I did new ones today. (Jaden took the sling pictures. :))
I did a lot (and sometimes still do) of baby wearing. Remember the
mei tai
I made? I have so many fun pictures of carrying both boys. I did more with Jackson because I learned more about baby wearing the second time around. It makes me look forward to one day doing it all over again :)
And my boppy cover. The back is a soft black material with a black zipper. My first every zipper!
Ok, ok....since I am going down this little memory lane trip...here are some old action shots.
Pregnant and looking horrible while carrying my handsome Jaden, (it can hold 30 pounds!). The sling wasnt sized right here but I was excited I made it.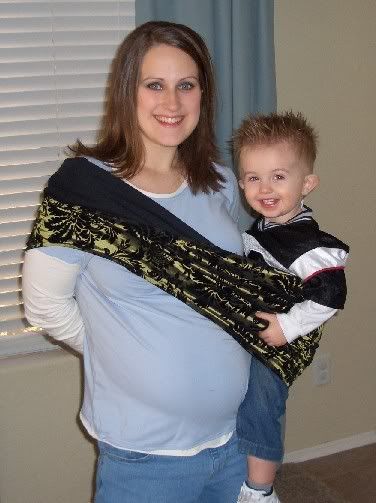 ....and when Jack was a baby, I still needed to adjust it...but he is so sweet :)
So sweet. I just want to kiss those lips.
Pin It